Conducting Extension Sermon on the "Translation Problems" in Urdu, Jamia Millia Islamia Department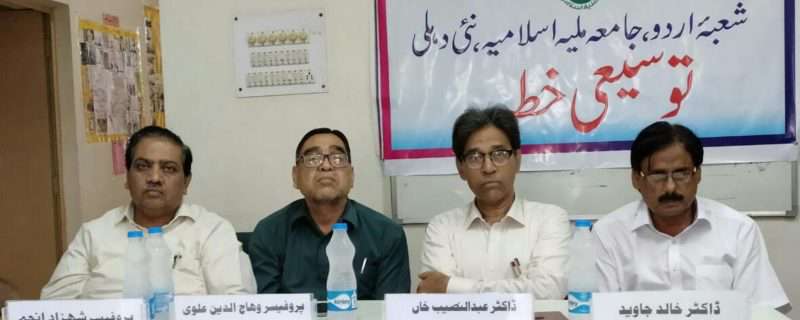 New Delhi, September 3, 2014: Translation is actually one of the keys to transforming the meaning of text into a target language by screening different screens. Religion, civilization, politics, geography and language are of particular importance in this regard. We can look at the problems in translation mainly at the level of language, culture and style. In order to reach the intended author or the intended author in the translation of any text, we have to make several compromises.
These views were expressed by Dr. A. Naseeb Khan in an extended sermon on the field of translation issues in Urdu. Speaking on the occasion, Prof. Shahzad Anjum, the President of the Department of Urdu, welcomed the attendees and the attendees and said that this is the first important extension of the new academic year for which Dr. A. Naseeb Khan, the eminent translator of this pledge, was harassed. Whose academic and literary works we are all familiar with. In a brief introduction to the guest speaker, convener of this extended sermon, Dr Khalid Javed said that the topic on which this sermon was held is a problem in itself and the story of its inception is very interesting.
Speaking on the occasion, former President Shibai Erdo۔ and former Dean Faculty of Humanities and Languages ​​Professor Wahjuddin Alawi termed Dr. Naseeb Khan's extended sermon as very valuable and insightful. He said that the sermon covers a wide range of translation issues and was presented by the guest speaker in a very simple and easy-to-understand language. At the end of the sermon, Dr. Sarwar Ehdi, expressing gratitude, said that of course, this important sermon highlights the problems of translation and how the translator dealt with these issues.
The tradition of the program started with the recitation of the recitation of Dr. Shah Nawaz Fayaz from the Holy Scriptures. Prof. Shahpar Rasool, Prof. Fasir Ahmad Saf, Prof. Kausar Mazhari, Prof. Abdul Rashid, Dr. Khalid Mubasher, Dr. Syed Tanveer Hussain, Dr. Adil Hayat, Dr. Javed Hassan, Dr. Abu Laklam, Dr. Sultana Fatima Wahidi, Dr. Sam Mohammed Besides Ahmed, Dr. Muhammad Adam, Dr. Zahid Nadeem Ahsan, Dr. Imtiaz Ahmed Alimi, all other research scholars and a large number of students and students were present.
(From the picture to the right: Dr. Khalid Javed, Dr. A. Naseeb Khan, Professor Wahjuddin Alawi and Prof. Shahzad Anjum