Kashmiri nationalists, pro-independence political organizations and several Pakistani political parties have welcomed Prime Minister Imran Khan's statement that the Pakistani government will not allow anyone to cross the Line of Control for jihad in Kashmir. Khan made this statement on Wednesday, September 18, in which he also said that anyone who goes for jihad in India-administered Kashmir will be the biggest enemy of Kashmiris and Pakistan.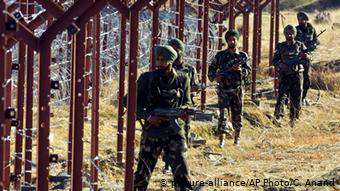 He said that any such move would be equal to the enmity of the Kashmiris and India would make it an excuse for further persecution of the Kashmiris. Many critics believe that this is the first statement of any Pakistani Prime Minister since the 1980s, which clearly states openly and publicly opposed Jihad in India-administered Kashmir.
Islamabad is also accused of patronizing jihadist organizations in Kashmir from 1988 to a few years ago. Pakistan, however, has always strongly denied such allegations against itself, and has argued that it has always supported Kashmiris only on the moral and diplomatic front and has never been involved in the patriotism of a terrorist organization. Standing of the Jammu and Kashmir Liberation Front Prime Minister Imran Khan's statement that many constituencies in Pakistan are surprised and many are praising it. Dr. Tauqir Gilani, president of the Jammu and Kashmir Liberation Front, who is actively working for the sovereignty of this overall disputed area in Jammu and Kashmir, told DW, "We have always said that the jihadists have Estimates damage the Kashmiris' struggle. India uses it to discredit our struggle for independence.
We welcome this statement, but we think it should be a state policy, not just a statement by Prime Minister Imran Khan. "Tauqir Gilani said that thousands of people have been under Raula Kot and Pakistan in recent times. The management once again shouted jihad in different parts of Kashmir, "I think this is in the knowledge of the government. Even some retired soldiers have spoken of jihad. They may not have the backing of an organization and have done these things in their own personal way. But this is a cause for concern. This would make our struggle notorious and India would further label Kashmiri cruelty on this struggle.
This will weaken our case in front of the international community. "The pressure of the Financial Action Task Force is also under intense pressure on Pakistan from the Financial Action Task Force, or FATF, to support terrorist organizations. Take strong action against. Otherwise Pakistan could be blacklisted. Well-known Kashmiri scholar Professor Khaliq believes this pressure is primarily the reason that forced Imran Khan to make that statement. He told DW, "At that time if a Pakistani goes into Indian-administered Kashmir and jihad, India will allow him to be captured and show that Pakistan is the one doing terrorism, which causes Pakistan's Many problems will arise and its financial difficulties will increase.
At this time, Pakistan does not want to give the impression that it is patronizing any kind of jihadist activity. Because Islamabad can be banned. However, this statement is positive and we should adopt it as a state policy. "Did something go wrong during Imran Khan's visit to the United States? Some constituencies in Pakistan are already accusing Imran Khan of allegedly trading Kashmir. According to Ayatollah Durrani, a Pakistan Peoples Party leader and former state minister, some solution has been taken to resolve the Kashmir issue.
That is why there is talk of ending Jihad. Talking to Deutsche Welle, he said, "Prime Minister Imran Khan may have decided on the Kashmir issue during his visit to the United States. I think there is talk of sovereign Kashmir. So jihad is no longer needed. So this cannot be Imran Khan's own statement. Because they say nothing without power. This is a joint statement of the state institutions and Imran Khan, which is better for Pakistan in the current situation. "Ayatollah Durrani said that Pakistan should come out of this jihadist issue," We ​​must first address the Kashmir issue with the United Nations.
And if the issue is not resolved through dialogue with other institutions, then the deadline can be thought of. "On the other hand, Pakistani analyst Ayub Malik, who is from Islamabad, said that the current situation is peaceful. People are less likely to talk about He said, "If jihadist organizations from Pakistan do not adopt the slogan of jihad, it will help to alleviate the current tension. But in the event of any interference of the jihadists, there can be a strong response from India, which can set fire to the entire region. So instead of thinking emotionally, we must find a peaceful solution to the problem. In this case, the statement is positive because we have suffered due to jihadist organizations and the region. The government should not only make such a crackdown impossible, but also look closely at such organizations. "